PLEASE NOTE – DUE TO COVID-19 THERE WILL BE NO SPECTATORS ALLOWED AT FAIR HILL INTERNATIONAL HORSE TRIALS
Before you attend any FHI event please read this Maryland Travel Advisory.
Entry Status for September Starter Trials (as of September 2)
RIDE TIMES for September Starter Trials
CROSS COUNTRY MAPS:
Note to Competitors
All entries MUST BE COMPLETE. Due to the Covid protocols, there will be no exchange of paperwork at check in! Mail any missing Starter Trial Waivers to Fair Hill International, 378 Fair Hill Drive, Elkton, MD 21921, or email to coldrenscorner@gmail.com
Blue Marlin Catering/Buck's Restaurant will be on grounds for lunch from 11:00 – 4:00
COVID POLICIES (may be updated as we get closer to the event):
Covid-19 screening upon arrival so plan accordingly.
Anyone with a temperature over 99.5F or higher are required to stay home. Check your temperature before arriving.
Anyone experiencing Covid-19 symptoms or anyone who has tested positive for Covid-19 in the last 14 days is not permitted to attend.
Anyone who has been in contact with someone who has tested positive or has exhibited Covid-19 symptoms in the past 14 days is not permitted to attend.
Social Distancing must be adhered to all at times unless absolutely impossible – (exception – members of the same household… this does not mean the same barn!)
Face coverings must be worn at all times unless you are on a horse.
Hand sanitizer and disinfecting wipes will be placed at all porta pots and other high contact areas. Please wipe down surfaces you have touched and wash your hands or use sanitizer frequently.
Phone numbers will be posted at the Parking area for you to call with questions and concerns rather than going to the Secretary booth.
All information such as Orders of Go, Course Maps, Scores etc. will be available online, and one set will be posted in Parking, but will not be handed out.
Ribbons will be self-serve in the Parking area tent on the honor system.
Still no Spectators permitted. Only personnel essential for the care of the horse and/or rider are permitted to attend. And remember any person attending with the Rider (for instance grooms, coaches, etc) needs to submit the Fair Hill International Waiver.
If there is non-compliance, the offender will be asked to leave the grounds, or the competition will be stopped until everyone is in compliance of Covid-19 guidelines.
GENERAL SCHEDULE:
Dressage
Ring 1 Karen Reilly
8:00 – 8:54 ON
9:00 – 9:48 NR-A
10:06 – 11:06 BNR-A
11:06 – 11:48 Lunch break
11:48 – 1:00 IH
1:12 – 2:18 IR-B
2:30 – 3:12 EL-A

Ring 2 Debbie Morrison
8:00 – 8:54 NR-B
9:06 – 9:48 OBN
10:06 – 11:18 BNH-B
11:30 – 12:36 BNR-C
12:36 – 1:18 Lunch Break
1:18 – 2:18 IR-C
2:30 – 3:12 EL-B

Ring 4 Abby Gibbon
8:00 – 9:12 NH
9:24 – 10:42 BNH-A
10:54 – 12:00 BNR-B
12:00 – 12:42 Lunch Break
12:42 – 1:54 IR-A
2:06 – 3:00 OE

Show Jumping
9:48 – 11:04 Novice
11:34 – 1:42 Beginner Novice
2:12 – 3:40 Introductory
4:10 – 4:54 Elementary

Cross Country
10:00 – 11:16 Novice
11:46 – 1:54 Beginner Novice
2:24 – 3:52 Introductory
4:22 – 5:06 Elementary
MISCELLANEOUS REMINDERS:
Straw bedding only. One bale per stall is included with the stall. Additional straw must be pre-ordered. (Shavings use due to health reasons for the horse or rider must have permission prior to arrival and will not be supplied.)
Dogs must be leashed at all times (including while walking XC prior to competition) per Park Rules
Motorized vehicles are NOT permitted anywhere on grounds per Park Rules. Leave the mini-bikes, 4-wheelers, etc at home. Anyone with accessibility concerns should contact the Organizer to make arrangements.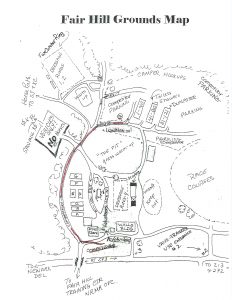 VOLUNTEERS NEEDED for our Horse Trials.  No experience necessary!  Please sign up at EventingVolunteers.