The History of the CCI at Fair Hill International
In 1925, William duPont, Jr. began to assemble a tract of land on the Maryland-Pennsylvania border that would eventually encompass more that 7,600 acres. He wanted to create a nature preserve where he could raise some cattle and engage in his two favorite pastimes: horse racing and foxhunting.
He was nothing if not a patient man – as he gradually added to his holdings he designed a spectacular steeplechase course and then waited seven years before he allowed a horse to set foot on it. He realized the importance of thick, smooth, healthy turf and he knew that nature couldn't be rushed.
In the interim, Mr. duPont didn't sit idly by. Setting out to prepare his new property for the foxhunting that he loved, he moved his pack of hounds up from his family home in Virginia. To ensure their safety, he built bridges over the roads, tunnels under them, and encircled the property with 17 miles of "super fence", a chain link barrier that was set in three-foot concrete footers with a "T" section across the top. Even the most aggressive hound (or fox) couldn't dig under it or climb over it.
And so it stayed for many years. Mr. duPont died on New Year's Eve, 1965 and, nine years later, the state of Maryland purchased from his estate the 5,633 acre portion of Fair Hill that lay within its borders.
In 1989, Elkins "Elkie" Wetherill and John Ryan, organizers of the Chesterlands Three-DayEvent, which had offered high performance competition at its former location in Unionville, PA, were looking for a new site for its CCI***. They were directed to Fair Hill and enlisted the aid of Trish Gilbert, who lived just down the road in Churchville, MD.
When they saw the part of Fair Hill that lay east of Gallaher Road and south of Rt. 273, they knew they'd found their new home. Its gently rolling terrain, meandering streams, and thick, lush turf made it the ideal venue for eventing.
A Founders Committee was formed, consisting of Trish Gilbert, Denis Glaccum, Kate Jackson, Jim Ligon, Bodgie Read, John Ryan, Col. D. W. Thackeray, Judy Thayer, Dick Thompson, Elkins Wetherill and Lana Wright.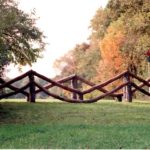 They secured the services of England's Michael Tucker, a world renowned expert, to design a cross-country course that was worthy of its surroundings. Like a talented sculptor who "sees" the image within the marble, Tucker accepted the challenge. By blending the obstacles, the water, and the galloping lanes with the natural contours of the land, he produced a course that exceeded expectations. Mr. duPont would have been proud.
The first event was conducted in October, 1989, and the CCI*** was won by Karen Lende (better known today as Karen O'Connor) on Nos Ecus.
Tucker continued to apply his magical touch to Fair Hill for eight more years until, in 1999, he passed the reins to Derek di Grazia, a retired eventer who had won the third edition of the Fair Hill CCI*** in 1991. Derek rose to the challenge with alacrity and, in short order, he produced a championship course that has only gotten better with each passing year.
But it's among the horses and riders that Fair Hill has earned its well-deserved reputation as a cradle of champions. It has always attracted the best of the best, and that's not a coincidence. Riders come here to test themselves and their horses to see if they have the talent and courage to succeed at the upper levels. Indeed, Phillip Dutton could have been speaking for everyone when he said, "When you get around the course at Fair Hill, you know you have a cross-country horse."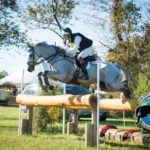 A partial list of riders who have won the CCI*** at Fair Hill amounts to a veritable Who's Who in American Eventing – David O'Connor (5 times), Phillip Dutton (4), Karen Lende O'Connor (2), and Bruce Davidson. Those stalwarts have captured more than half of the 24 runnings to date and have parlayed those accomplishments into Olympic glory for themselves and their country.
And so the saga continues. It's been 88 years since Mr. duPont started to put his paradise together and those who have followed are determined to preserve his legacy. One week in October every year, that small corner of the property comes alive with horses, tents, and merchants and 15,000 people flock to the site. And the day after the curtain falls on Sunday, the tents are struck, the competitors have returned to their homes, and Fair Hill reverts to its quiet, pristine beauty – just the way Mr. duPont would have wanted it.
Charles T. Colgan
Past Executive Director