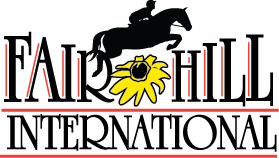 April 2020
Dear Friends,
We hope you and your family are healthy and coping well with necessary changes to daily routines. During normal times, Fair Hill International would have completed the annual Endurance Ride and would be well into the Eventing season, with our busy schedule of Horse Trials, cross-country schoolings and the annual Driving competition.
Because of COVID-19 restrictions, we have had to cancel all scheduled Events through the Spring. Accordingly, we have had no income. By the end of May, we will have lost nearly 50% of expected annual income. We are asking for your help.
Most of you know Fair Hill International as the 31-year host of the top Fall National Championship, FHI's October 3-day Event. This year, that becomes the inaugural Maryland 5 Star at Fair Hill. We are excited to be partnering with the State of Maryland's Fair Hill Organizing Committee (FHOC) on this. FHI will manage the competition and will also recruit and manage the more than 600 volunteers.
We will continue to be much more than just the October competition. Our mission is to support regional and North American Eventing, providing riders and their horses with training and competition opportunities from the grassroots levels through gold medal status. Competitors rely on our USEA/USEF recognized events, starter trials, and numerous other training opportunities. FHI provides top quality competitions at all levels.
We are committed to make Fair Hill a unique destination for young riders and seasoned competitors alike, to be a key partner in supporting the horse industry in Maryland, and to be a source of pride for our community.
With activities suspended and revenue sources closed, we need your help. Mary Coldren, FHI's Competition Manager, and her team must maintain operations, event equipment, and the cross-country course so that FHI can resume competitions as soon as the current restrictions are lifted.
We understand that these are difficult times, but we know how resilient "horse people" are. FHI wants to be ready to get back to the new normal as soon as possible. Like all of you, we are counting on being back in action very soon. With your help, we will have FHI ready to go!
Thank you in advance for considering a timely gift to Fair Hill International. FHI is a registered 501(c)(3) organization and your gift is 100% tax deductible. You can send a check to the FHI office or donate via the FHI website.
Sincerely,
Trish Gilbert and the Fair Hill International Board of Directors
Thank you to our 2020 Friends!
Gold ($2,500 – $4,999)
Peter & Mary Blauner
Susan Domonkos
Nina & Tim Gardner
Trish Gilbert
Jeanne Parry
Cynthia Rossetti
Silver ($1,000-$2,499)
Rick & Shirley Farquhar
Linda Libby
Eileen Parsonage
Rupert Rossetti
Bob & Kay Willmarth
Bronze ($100 – $999)
Anonymous
Coates & Barbara Bateman
Julia Battaglia
Michael Beckman
Melissa Bekken
Steve Berkowitz
Cara Birch
Stacey & Jim Blyskal
Rob & Karen Bowersox
Cynthia Bradford
Kristina Byrd
Paul & Jennifer Cannon
Louise Cantrell-Kehoe
Barbara Cassani
Patricia Clemens
Amy Click
Kaleigh Collett
TJ Costa
Donna Marie & Dennis Daub
Carol Davidson
JoAnn & Ted Dawson
Kathleen DeMasi
Mark Dewis
Lucy Dunne
Phillip & Evie Dutton
Charlotte Fallon
Sheryl French
Julia Gardner
Annie Gellrich
Barbara Goodman
Joan Goswell
Maisy Grassie Fay
Amy Gulick
Chet & Bonnie Halka
Merry Harrison
Mark Hart
Mary Beth Heiser
Jennifer Holmquest
Cole & Kimberly Horn
Madeline Iacobucci
Sharon Journey
Colette Keane
Douglas Kliever
Bonnie & Mark LaMonte
Nancy Latimer
Angela Leihy
Denise & Tom Maillie
John Martyny
Sue McGuinness
Anne Meadows
Ellen Monk
Tim & Jane Murray
Chris Nibouar
Will & Katie Phipps
Caroline Prickett
Bodgie Read
Laura Reilly
Liz and Steven Ricklefs
Tina Ross
Nina Sanger
Friends of Silverhorn Equestrian
Mary Schlachter in memory of John Ryan
Sonia Scotti
Catherine Slaterbeck
Conrad & Elizabeth Somers
Samantha Stanlaske
Melissa Stubenberg
Spike & Jeanne Sylvester
Diane Trefry
Kathie Troutman
Denise Tuck
Bonnie Wallace
Carroll Waltz
Jean & Paul Warren
Jaqueline Whalen
Clinton & Joan White
Pam Wiedemann & Tony Short
Margaret Wilkinson
Michelle Williams
Chuck Ziegler
Friend (up to $99)
Amanda Allen
Kristie Altman
Sallie Ausley
Jennifer Barnhard
Andi Bates
Cheryl Bennett
Anne Berry
Marley & Tim Bourke
Jessica Bradford
Wendy Bradley
Patricia Brannigan
Susan Buskirk
Kate Chadderton
Ellen Chaney
J. Charnock
Alison Chubb
Annemarie Cochrane
Renee Colby
Elizabeth Diamond
Kristen Dows
Jacinda Evans
Sally Faulkner
Margaret Gibson
Kathy Healy
Michelle Huber
Judy Jackson
Donna Jacobson
Lloyd & Sally Johns
Holly MacDonald
Abigail Niles
Ross Peddicord
Lea Purcell
Merrilyn Ratliff
Amanda Roberts
Ginny Sanders
Katharine Slade
Diane & Lizzie Snow
Ellen Stromdahl