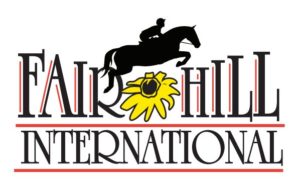 Fair Hill International Job Opening
(Full Job Description)
Are you looking for an inspiring job working with an equestrian sports organization that has supported and promoted amateur and professional riders to take their equestrian skills from early levels to advanced international competitions?
Are you organized, dependable, detail-oriented, a self-starter, able to raise funds, to attract and develop corporate sponsorships, and also to recruit, retain and motivate volunteers?
Would you enjoy working with a team of more than 500 hard working volunteers who share their love of the outdoors with a desire to participate in one of the most prestigious equestrian Three-Day-Events in the United States?
Are you the kind of person that people consider the "glue" that holds things together?
If you are that type of person and are looking for a leadership position where you won't be sitting at a desk all day long, this may be the job for you.
The next Fair Hill International Executive Director will lead a successful 30-year 501(c)(3) organization that has succeeded largely through the work of an eager and committed volunteer workforce and through the generosity of our sponsors and friends.
Our Event Calendar goes from April to October, but the work goes on all year. Our offices are on the edge of a 5,600 acre State Park in the northeast corner of Maryland, adjacent to the State lines of Pennsylvania and Delaware, and within an hour's drive of Philadelphia and Baltimore. All of our events are held in the Park, which provides a superb setting in a natural landscape that is also used by hikers, bikers and naturalists.
If you would like more information, please look at the full Job Description, which also has the application information.  The application deadline is JANUARY 14, 2019.