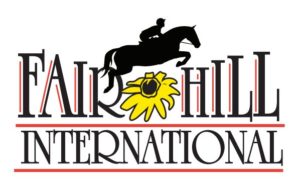 Recent news from FHI.  Want to keep up to date?  Sign up for our mailing list:
September 26:  The Dutta Corp. Fair Hill International to Feature Fall Family Fun
September 13:  The Dutta Corp. Fair Hill International Hosts U.S. Equestrian CCI4*-L, CCI3*-L Fall Eventing Championships
August 31:  County Lines Magazine coverage of The Dutta Corp. FHI
August 9:  A Fair Hill International History, Plus a Construction Update
August 8:  Fair Hill Organizing Committee Developed to Manage Maryland Five Star
May 8:  Maryland Board of Public Works Approves Fair Hill NRMA Equine Improvements Project
April 22:  April Horse Trials Results
April 12:  An Update From the Fair Hill Foundation
March 26:  Fair Hill International Welcomes Ian Stark as the 5* Cross Country Course Designer
March 13:  Fair Hill International Announces New Competition Manager, Business Director
The Dutta Corp. Fair Hill International Three Day Event welcomes Press, and provides a Press Tent for your convenience.  The Press Tent is managed by Classic Communications.  All Press must request PRESS CREDENTIALS no later than October 1, 2019, and this request must be accompanied by a signed Letter of Assignment.