HEALTH AND SAFETY OF VOLUNTEERS – FHI'S COVID-19 PROCEDURES
Before you attend any FHI event please read this Maryland Travel Advisory.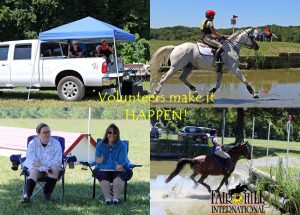 MANY THANKS TO ALL OUR VOLUNTEERS!

Fair Hill International would not be possible without the hard work and dedication of our amazing volunteer staff. There are many ways that you can become a volunteer as well. Get involved to give back to your sport.  IT'S FUN!
We use the USEA's Eventing Volunteers program for all our Horse Trials volunteer needs.
Click EventingVolunteers.com to get started!
Need some help with EventingVolunteers.com?  Check out our tutorial video!
(If you're having problems signing up, or finding FHI's events, please contact Kathie Troutman – she'll help you out.)
Horse Trials Volunteers:  Sign up to volunteer through EventingVolunteers.com.  Collect volunteer hours to earn free cross country schoolings.
Cross Country Schooling Volunteers:  We always need folks to help with spotting at fences.  Going to be there anyway?  May as well volunteer!  Your hours will add up, and you can collect a FREE cross country schooling to use for yourself or give to a friend.  To volunteer, please email our Volunteer Coordinator.
Foxcatcher Endurance Volunteers:  Volunteering is a GREAT way to learn about the sport of Endurance.  Contact Holly MacDonald to volunteer.
Elk Creek Combined Driving Event:  Volunteering is a GREAT way to learn about the sport of combined driving.  Contact Louisa Emerick to volunteer.
Maryland 5 Star at Fair Hill Volunteers: Please stay tuned for more details.